Healthy Moves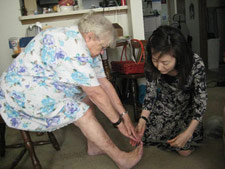 The Healthy Moves program is an evidence-based intervention program that consists of two major components:
Components
a simple physical activity intervention modeled and adapted from the Senior Fitness Test work of Rikli and Jones (1999)
a lifestyle behavior change counseling method called Brief Negotiation that was developed by behavior change experts Prohaska and DiClemente (1983).
The integration of these two simple but effective approaches into a single, behaviorally-based intervention is highly consistent with recent research recommendations and greatly increases the likelihood of the older adult participants in the program adopting a more active lifestyle.
The objective of the project is to assess the feasibility of implementing simple, safe, non-equipment evidence-based movements (Healthy Moves for Aging Well program) using an affordable and sustainable homecare-aide based delivery model that reaches the maximum possible number of frail older adults living at home in Illinois.
Results
Both interview and survey data revealed that most participants including older adults, homecare aides, and site directors had a positive perception and high satisfaction of the program. Specially, 100% of older adult participants reported that they would recommend the program to others. Additionally, seniors and homecare aides reported that they enjoyed working with each other on the program and both site directors reported that dissemination of the program in the State of Illinois employing homecare aides was feasible and acceptable.
Conclusions
Our study results indicate that, with the homecare aides, Healthy Moves for Aging Well program could safely and successfully be disseminated to a substantial group of frail older adults in the State of Illinois. We found no serious injuries or adverse events and the dissemination strategy of integrating Healthy Moves for Aging Well within home care aid delivery model was feasible. Furthermore, the results have direct applicability to designing and implementing future home care programs for older frail sedentary adults.